Air Conditioning Using AI and Reinforcement Learning, Aiming to Significantly Reduce Power Consumption while Maintaining Comfort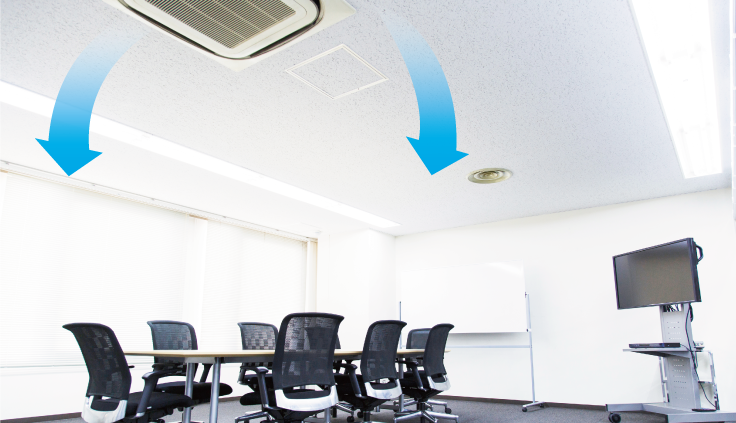 Project Summary
Utilizing deep reinforcement learning, Araya's team of autonomous agents aims to significantly reduce power consumption compared to traditional air conditioning systems while maintaining comfort.
Technical background of the project
Araya has identified several areas of potential for the social implementation of autonomous agents, and air conditioning optimization is one of them.
As of 2019, autonomous agents and their underlying technology, reinforcement learning, are generally more of a research and development project, and there are currently few reinforcement learning-based services in operation in the real world.
Social context of the project
Air Conditioning Optimization is to solve the issues of energy saving, cost saving and CO2 reduction without sacrificing the performance of air conditioning functions, or to improve air conditioning performance without increasing energy consumption. Reducing energy consumption by optimizing air conditioning is important from both a cost and environmental perspective. In the building industry, ZEB (Net Z ero E nergy B building), i.e., a building in which energy consumption during the operational phase is reduced to as low as zero.
By applying deep reinforcement learning/autonomous agent technology to air conditioning, ARAYA aims to achieve the air conditioning optimization required in each of stores, office buildings, and data centers.
Reinforcement learning makes "air-conditioning systems work autonomously.
USING "REINFORCEMENT LEARNING," THE MOST ADVANCED TECHNOLOGY IN AI, WE AIM TO ENABLE ROBOTS AND OTHER DEVICES TO JUDGE SITUATIONS AND CARRY OUT TASKS ON THEIR OWN (AUTONOMOUS AGENTS). IN THE CASE OF AIR CONDITIONING, BY SHARING THE SET TEMPERATURE, ENERGY REDUCTION TARGETS, COMFORT INDICES, ETC., THE AGENT WILL PROCEED WITH AIR CONDITIONING OPTIMIZATION.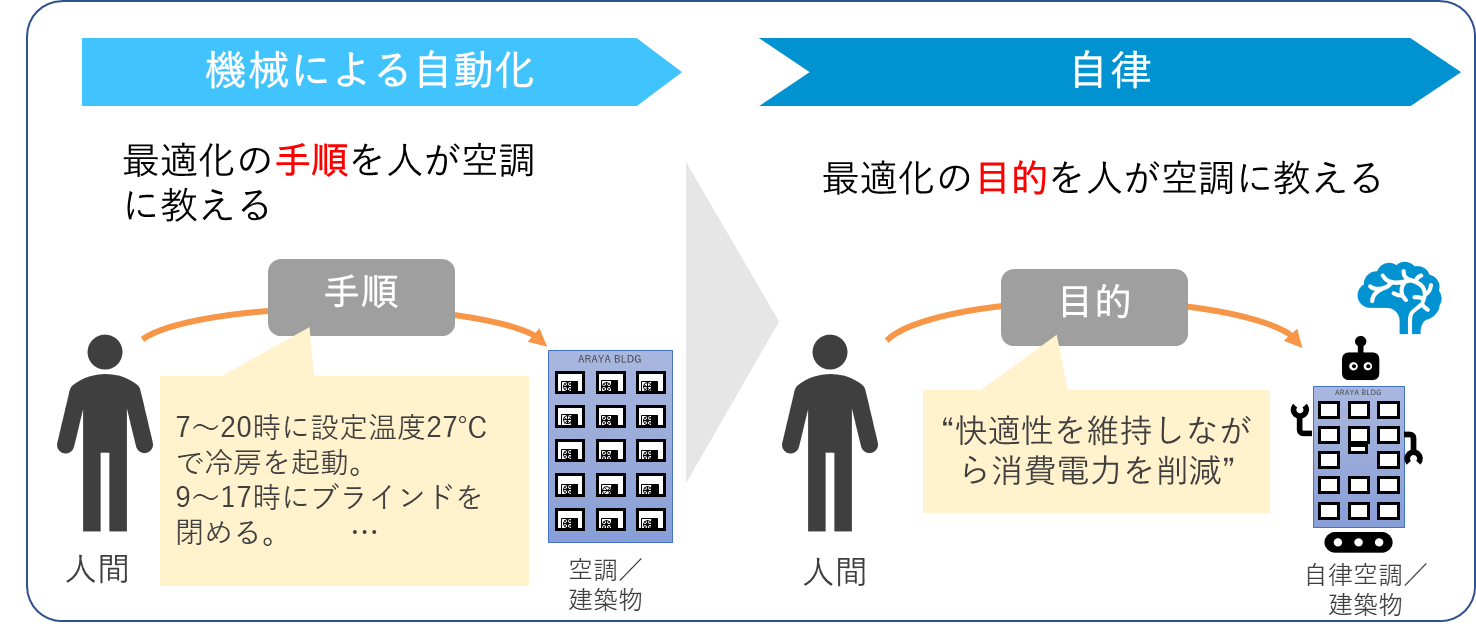 Simulation for reinforcement learning
In the stage where an autonomous agent learns, trial and error is indispensable at first. The learning program on the simulator learns by repeated trial and error, and a good control model is created. After that, the learned model is applied to the actual building.

Benefits of Reinforcement Learning in Air Conditioning Control
The use of reinforcement learning in air-conditioning control has the following advantages: a wide variety of input data can be used, flexible objective indicators can be set, and parameters can be set in a data-driven manner.

For the future
CURRENTLY, WE ARE DEVELOPING IN A SIMULATION ENVIRONMENT, BUT IN THE FUTURE, IT WILL BE IMPORTANT TO DEVELOP THROUGH EXPERIMENTS IN A REAL ENVIRONMENT. WE ARE LOOKING FOR PARTNER COMPANIES IN THE BUILDING, INDUSTRY, AND HVAC INDUSTRIES THAT WILL WORK WITH US TO DEVELOP THE SYSTEM USING ARAYA'S AI/REINFORCEMENT LEARNING TECHNOLOGY.