INTRODUCTION OF AI FOR PARTS INSPECTION OF LARGE MACHINERY
Introduction
At ARAYA, we use image recognition technology based on deep learning to solve a variety of business issues for our customers.
Here, we introduce a case where AI was introduced to inspect parts of a large transport machine.
CHALLENGES BEFORE THE INTRODUCTION OF AI
The company that requested this service had to conduct legal inspections of parts of transport machinery, and in the past, all the fine parts to be inspected were inspected by workers using endoscopes.

So, we had the following issues.
■Assignment
1. it is difficult to maintain high inspection quality
Defects to be detected by inspection are difficult to find with the human eye, and it is difficult to determine whether a defect is normal or abnormal. In addition, the quality of the inspection depends on the skill of the operator, which results in variation.
2. time consum ing
In order for a person to perform a high quality inspection, it is necessary to carefully look at the details, and this takes time.

EFFECTS AFTER AI IMPLEMENTATION
IN ORDER TO SOLVE THE ABOVE ISSUES, AI AUTOMATICALLY DETERMINES WHETHER AN INSPECTION IMAGE IS "NORMAL" OR "POSSIBLY ABNORMAL AND SHOULD BE INSPECTED INTENSIVELY", THEREBY REDUCING THE OVERALL INSPECTION WORKLOAD.

Specifically, the following effects were obtained.
EFFECTS OF AI INTRODUCTION
1. maintaining high inspection quality
By using AI to determine whether an inspection is "normal" or "possibly abnormal," it is possible to maintain a high level of inspection quality that does not depend on the skill level of workers or their own judgment.
2. shortening the time required
The total time required for inspections can be shortened by using AI to take over the laborious work of workers. In addition, the load on workers is reduced, allowing them to focus on the inspection work that needs to be focused on.
AI DEVELOPMENT 1: EXTRACTION OF THE BEST SHOT FOR JUDGMENT
When workers use endoscopes to observe minute parts to be inspected, finding a momentary image that clearly shows the inspection point has also become a workload.
To solve this problem, we created a system that extracts clear image frames that are easy for AI to judge from the video images of the inspection target. By doing so, we were able to improve the judgment accuracy of the AI.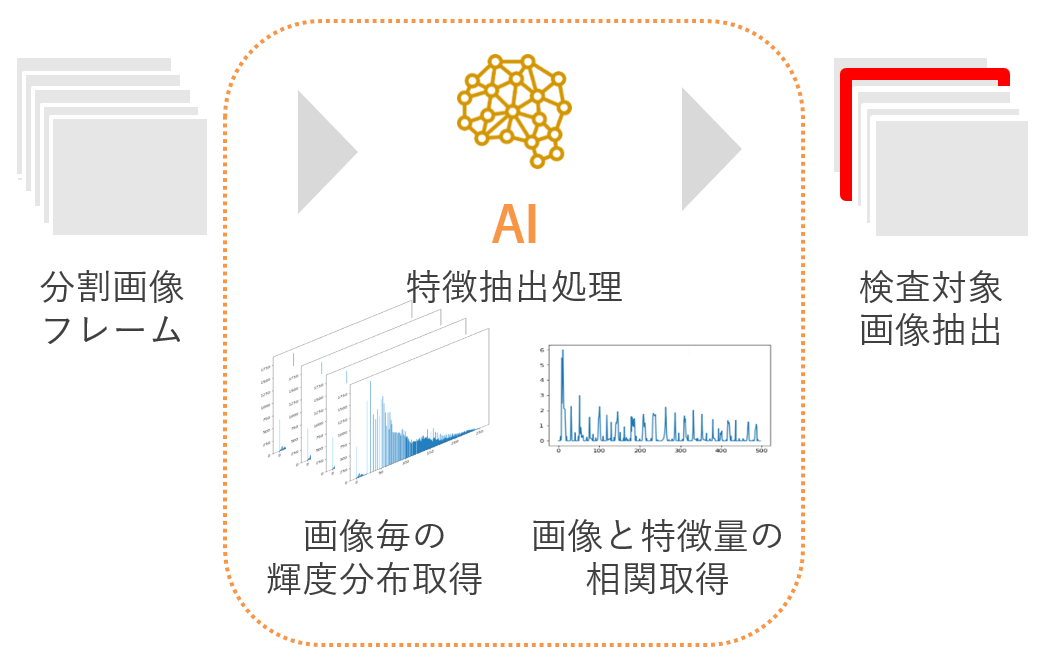 AI DEVELOPMENT POINT 2: OUTPUT OF JUDGMENT RESULTS CONSIDERING BUSINESS PROCESS
At the customer's operational request, we have classified the AI judgments into multiple ranks according to the size of the damage, instead of "normal" and "abnormal".
Specifically, the AI calculates the area (number of pixels) of the damaged area in the inspection image and ranks it according to the size of the damage. As a result, it is now possible for workers to set up a workflow in which they focus on inspecting those with the highest rank.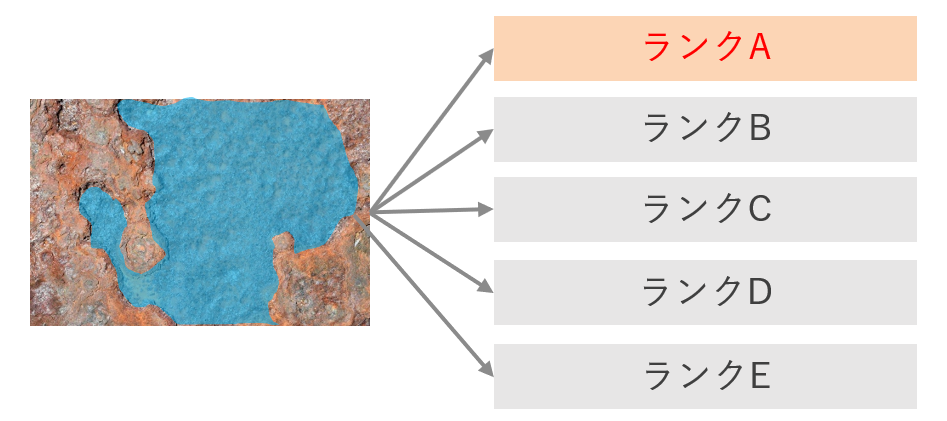 SUMMARY: FOR THOSE CONSIDERING THE INTRODUCTION OF AI FOR INSPECTION AND TESTING
Please consult with ARAYA about the automation of visual inspection (inspection) of large machinery and structures (steel towers, bridges, etc.) and the introduction of AI.
For example, if you have any of the following business issues for introducing AI, we will give you advice after carefully considering whether there are any solutions.
The existing inspection machine cannot be automated or unmanned, and manual work is being performed.
If you want to introduce a system that fits the operational processes at your site
When there are multiple objects or lines to be inspected, or when the inspection method may change, and you want to be able to respond to the change by yourself.
Also, please click here to learn more about ARAYA's "InspectAI" package software for visual inspection.