WHAT IS INSPECTION AUTOMATION USING AI VISUAL INSPECTION?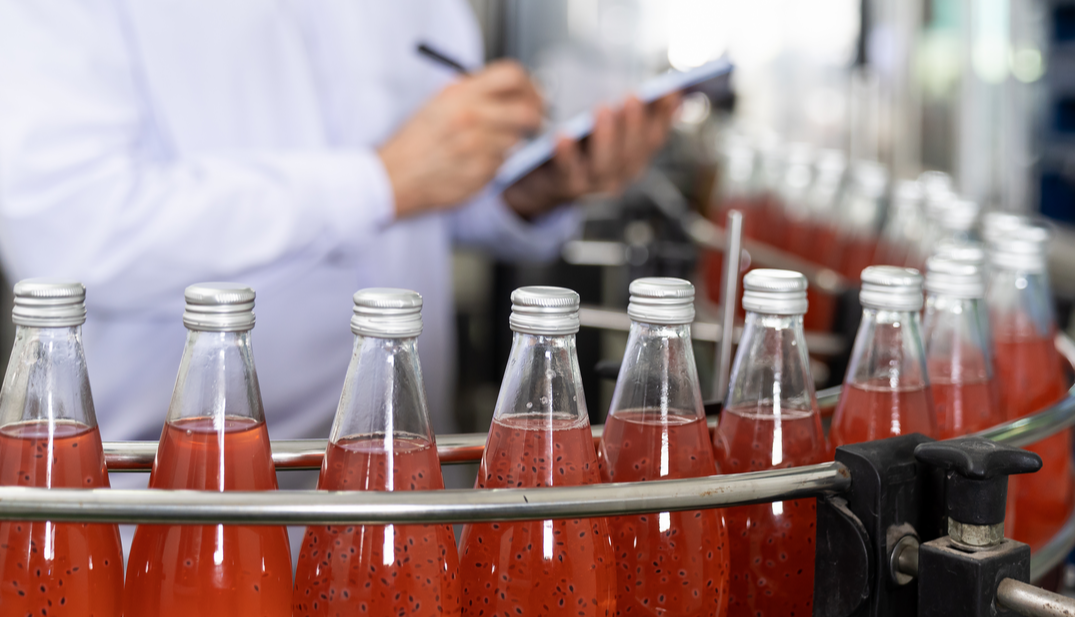 1. what is appearance inspection?
Appearance inspection is an inspection service that checks the appearance (appearance, external surface) of products and raw materials to ensure their quality. In the manufacturing industry, visual inspection detects defects such as dirt, foreign matter, scratches, and deformation of products and parts that occur during the manufacturing process to eliminate defective products.
The most basic visual inspection is a visual inspection by human eyes. Automation of visual inspection using inspection equipment is also being promoted at some sites.
WHAT IS AI VISUAL INSPECTION?
AI visual inspection is a method of image inspection utilizing deep learning technology. In recent years, with the development of AI technology, AI has been increasingly used for visual inspection in the manufacturing industry.
AI-based visual inspection is a next-generation visual inspection method that has various advantages, including more accurate and faster inspection than visual inspection, easier setup than conventional inspection equipment, and higher inspection accuracy.
THE MAIN MECHANISM IS TO PROVIDE AI (ARTIFICIAL INTELLIGENCE) WITH IMAGES OF GOOD AND BAD PRODUCTS SO THAT IT CAN MAKE GOOD OR BAD DECISIONS JUST LIKE A HUMAN.


3. CHALLENGES OF CONVENTIONAL VISUAL INSPECTION AND ADVANTAGES OF AI VISUAL INSPECTION
THIS SECTION DESCRIBES THE CHALLENGES OF VISUAL INSPECTIONS CONDUCTED BY VISUAL INSPECTION AND INSPECTION EQUIPMENT, AND WHAT CAN BE EXPECTED FROM AI VISUAL INSPECTIONS IN RESPONSE TO THESE CHALLENGES.
(1-1) Overview of visual inspection and issues
Visual inspection is the most basic visual inspection method. In visual inspection, products and parts are visually compared with limit samples to determine whether they are good or defective. In some cases, a magnifying glass or microscope is used to improve the inspection accuracy of minute parts.
Visual inspection has the advantage of not requiring inspection equipment and being easy to introduce. On the other hand, it has the following problems.
Labor costs for inspections.
Difficult to secure personnel to perform visual inspections due to labor shortage
Quality of inspection depends on the skills of the inspector
Variation occurs because the judgment criteria depend on the person.
Takes longer to inspect, especially if detailed confirmation is required
(1-2) ADVANTAGES OF AI VISUAL INSPECTION OVER VISUAL INSPECTION ISSUES
Can reduce costs, solve human resource shortages, increase inspection capacity
AI VISUAL INSPECTION SYSTEMS CAN TAKE PICTURES AND MAKE JUDGMENTS INSTANTLY. IN ADDITION, THE MACHINES ARE "FATIGUE-FREE" AND CAN BE OPERATED 24 HOURS A DAY. ALSO, THE INSPECTION CAPACITY CAN BE DOUBLED OR TRIPLED BY ADDING MORE MACHINES. AS A RESULT, THE SYSTEM CAN SOLVE THE PROBLEMS OF HUMAN RESOURCE SHORTAGE AND HUMAN RESOURCE DEVELOPMENT.
Can improve inspection quality
VISUAL INSPECTIONS BY HUMANS ARE DIFFICULT TO MAINTAIN ACCURACY DUE TO INSPECTORS' ABILITY AND FATIGUE, BUT AI VISUAL INSPECTIONS CAN MAINTAIN A HIGH LEVEL OF INSPECTION ACCURACY. AI VISUAL INSPECTION, HOWEVER, CAN MAINTAIN A HIGH LEVEL OF INSPECTION ACCURACY.
(2-1) Overview and issues of inspection by inspection equipment
In some cases, inspection equipment is installed to automate inspection in order to solve the problems of visual inspection.
The inspection system uses a rule-based method to judge defective products. Rule-based" is a method in which judgment criteria are set in advance for the inspection system, and judgment is made based on whether or not the defect conforms to the rules. The rules can include the length, area, shape, color, etc., of the defective part.
While inspection devices that make rule-based decisions are one effective means of automating visual inspections, they also present the following challenges
Clear rules must be established, and if there are variations in the inspection target, shape or color of defects, the rules cannot be established and inspection cannot be performed.
If there are many types of anomalies, the settings become more complex. Also, the more complex the settings, the more over-detection (over-detection)
Difficult to cope with the loss of know-how when setting up rules becomes a personal task
(2-2) ADVANTAGES OF AI VISUAL INSPECTION OVER INSPECTION EQUIPMENT ISSUES
No need to define clear rules, complex conditions can be handled
The most common method to build a visual inspection AI is to load image data of products and parts sorted into good and defective products into the AI and have it learn. Another method is to train on data of only good products, and then "assign defective products to those with features different from those of good products. AI that has learned classification criteria can automatically classify products and parts captured by a camera.
In the case of AI, there is no need to clearly define good and defective products, as AI can learn the "features" contained in the input data by itself and make a good/defective judgment. In addition, since AI can make complex judgments based on area, color, and other factors, it can handle cases that previously required complex settings.
CRITERIA CAN BE LEARNED AND STORED BY AI
SINCE AI VISUAL INSPECTION LEARNS THE CRITERIA FOR JUDGING GOOD OR BAD, IT IS LESS SUSCEPTIBLE TO CHANGES, TRANSFERS, OR RETIREMENTS OF INSPECTION PERSONNEL. IN ADDITION, INSPECTION DATA AND INSPECTION CASES CAN BE ACCUMULATED AND RELEARNED (ADDITIONAL LEARNING) BY THE AI TO ENABLE INSPECTIONS WITH HIGHER ACCURACY.
KEY POINTS FOR SUCCESSFUL IMPLEMENTATION OF AI IN APPEARANCE INSPECTION
HERE WE DISCUSS THREE KEY SUCCESS FACTORS IN IMPLEMENTING AI TO AUTOMATE VISUAL INSPECTION.
(1) Shooting environment (lighting and cameras)
IN AI VISUAL INSPECTION, THE TARGET PRODUCT OR PART IS PHOTOGRAPHED AND THE DATA IS FED TO AI FOR LEARNING. THE IMPORTANT POINT WHEN PHOTOGRAPHING IS THAT "ABNORMALITIES ARE PROPERLY CAPTURED AS AN IMAGE. HERE ARE SOME POINTS TO CONSIDER.
Is shooting from one direction sufficient or is shooting from multiple directions necessary?
As the simplest example, if the object to be inspected is a flat surface or only one surface of a three-dimensional object, shooting from only one direction is sufficient.
On the other hand, if the object to be inspected is three-dimensional or has a complex shape, it is necessary to "increase the number of cameras and take pictures from multiple directions simultaneously" or "rotate the object to be inspected so that the surface to be inspected faces the camera". In a similar case, multiple cameras may be used when the inspection target is too large to be inspected with a single camera. For example, in the case of "InspectAI" provided by Araya, multiple cameras can be used to take pictures simultaneously, and if any defect is found anywhere, the product can be determined to be defective. We can also propose conveyors that rotate the inspected product.
Cases that cannot be successfully photographed using common photography methods
Although a camera (color or monochrome) and lighting are used to take photographs for general visual inspections, there are cases in which the simple method of taking photographs does not work well.
For example, in the case of metals and plastics, the shiny surface of the material may reflect the illumination, making it difficult to capture abnormalities (white spots). In such cases, the use of high-performance lighting manufactured by Keyence, for example, can solve the problem. In addition, Arayahas "light experts" who can suggest various ways to capture images with less reflection.
We can also handle other types of photography, such as using near-infrared light to transmit the surface or to highlight irregularities in the surface to be inspected.
Use equipment already installed as is
IF YOU ALREADY HAVE AN EXISTING INSPECTION MACHINE AND HAVE ISSUES WITH ACCURACY, YOU CAN CONSIDER REPLACING THE CAMERA AND LIGHTING OF THE INSPECTION MACHINE WITH AN AI SYSTEM THAT ONLY DETERMINES WHETHER THE MACHINE IS ACCEPTABLE OR NOT. IN THIS CASE, THE COST CAN BE REDUCED BECAUSE THERE IS NO NEED TO INSTALL NEW HARDWARE FOR THE CAMERA AND LIGHTING.
(2) CONSTRUCTION OF AI APPEARANCE INSPECTION MODEL
AI visual inspection requires a preliminary "learning" procedure before it can be used in operation. Traditionally, individual development required a very long preparation period for AI experts to assemble and learn AI models.
In recent years, packaged software packages have emerged that make AI visual inspection easy to implement and use. There are several points to consider in selecting such AI visual inspection software.
CAN YOU USE THE RIGHT TYPE OF AI VISUAL INSPECTION MODEL FOR YOUR INSPECTION?
THERE ARE VARIOUS TYPES OF "AI VISUAL INSPECTIONS," EACH WITH ITS OWN CHARACTERISTICS AND SUITABILITY FOR DIFFERENT INSPECTION TASKS. THE FOLLOWING IS AN INTRODUCTION TO TYPICAL AI MODELS.
Good product learning model: A model that does not require images of defective products and can learn only with images of good products. It is best suited for inspecting products that are unlikely to have defective products. However, it may not be applicable to products with large variations in the appearance of good products.
Segmentation model: A model that is good at detecting small defects and foreign objects.
Object detection model: A well-balanced model that can detect larger defects at high speed.
Classification model: A model that can handle defects in the entire product (distortion, color defects, etc.).
ArayaInspectAI" of "InspectAI" supports all of the above models, making it possible to handle a wide range of inspections.
How much defective product can be prepared
To build an AI visual inspection model, it is common to prepare a large number of good and defective products in advance; to improve the inspection accuracy of AI visual inspection, it is necessary to learn as many patterns of defective products as possible. However, the frequency of defective products is often low, and preparing a large number of defective products requires a great deal of time and effort.
ArayaInspectAI" of "InspectAI" can perform inspections without defective products by using the aforementioned "Good Product Learning Model". Even in cases where the "Good Product Learning Model" cannot be applied, InspectAI has a mechanism that enables highly accurate inspections with only one-tenth the number of defective images required for training in general AI visual inspections. This system is also recommended for those who have abandoned the introduction of AI visual inspection due to the small number of defective products.
(3) LINKAGE OF AI VISUAL INSPECTION WITH CONVEYORS AND REJECTION EQUIPMENT
Automation of inspections will be further enhanced if the AI visual inspection can automatically stop the line when it detects defective products or eject them to an abnormality lane by an exclusion device (sorting machine). In order to realize these goals, it is necessary to link with a PLC (a device that automatically controls equipment on a production line).
ArayaInspectAI's "InspectAI" can be linked to PLCs as a standard feature. We can also propose new elimination devices (sorting machines).
EXAMPLES OF INSPECTIONS THAT CAN BE HANDLED BY AI VISUAL INSPECTION
ArayaThe inspection targets and inspection items that can be handled by InspectAI, the AI visual inspection software provided by
foodstuff
InspectAI is a high-performance AI software that can detect even hairs mixed in food products. In addition to hair, InspectAI can simultaneously inspect the appearance of a variety of food products.
Foreign matter (e.g., plastic pieces)
Chips, cracks, peeling, poor shape
Burnt, over- or under-infested, inconsistency of ingredients
Defective containers/packages, etc.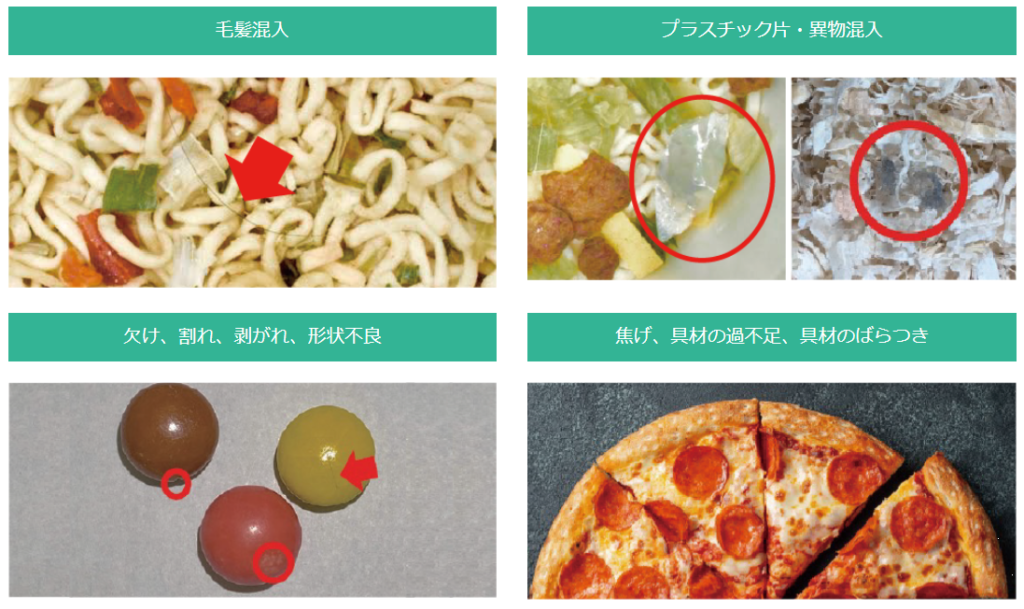 metal part
Scratches, dents, cracks, breaks, paint (uneven color), welds
film and sheet
Scratches, dents, dirt
package
Scratches, dents, stains, label presence, label position
Electronic Components and Substrates
soldering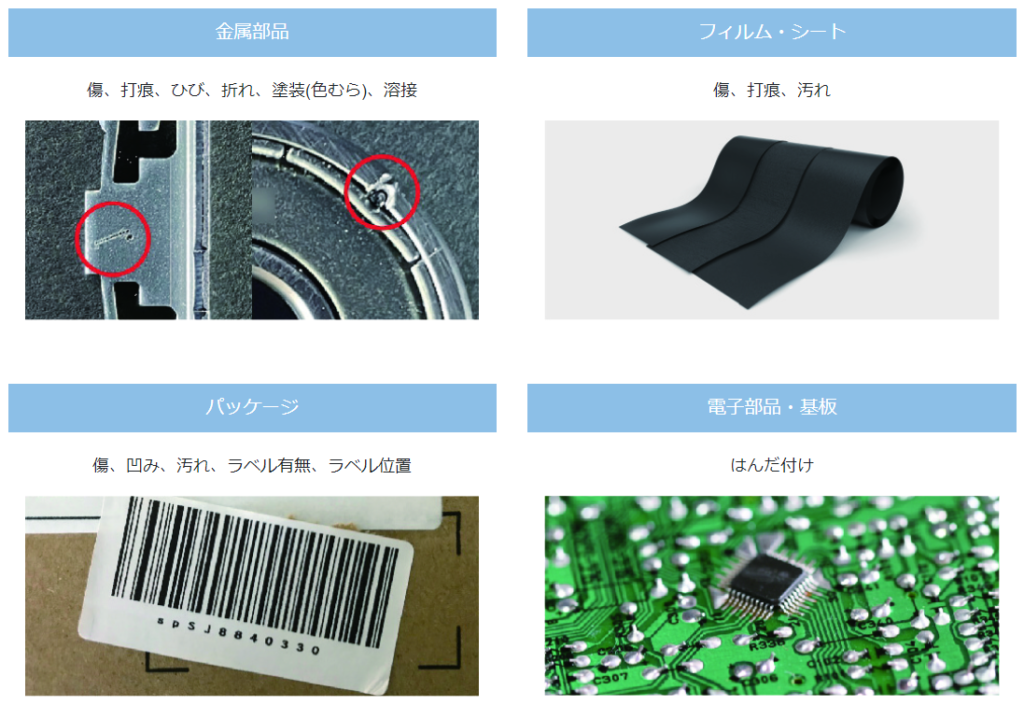 6. EXAMPLES OF AI VISUAL INSPECTION
To give you a concrete image of the purposes and applications for which AI visual inspection is used, we will introduce some examples of "InspectAI" introductions and inspections.
Food] Cup Noodles
object to be inspected
cup noodle
Defects to be detected
Foreign matter (hair, plastic pieces)
problem
For food safety, it is necessary to inspect for the presence of foreign substances, but since it is difficult to detect with rule-based inspection machines, human inspections were conducted visually.
The company was facing issues with labor costs for inspectors and securing human resources.
WITH THE INTRODUCTION OF AI VISUAL INSPECTION
It is now possible to detect only foreign objects with a high degree of accuracy and to automate inspections.
Food] Bento
| | |
| --- | --- |
| object to be inspected | bento |
| Defects to be detected | Foreign material contamination (hair, plastic pieces), missing item inspection |
| problem | Although visual inspections were conducted by human operators, there was a limit to the number and amount of items that could be inspected at one time, which made it difficult to reduce the number of defective products. |
| WITH THE INTRODUCTION OF AI VISUAL INSPECTION | Reduction of defective products by inspecting all inspection items simultaneously. |
Metal parts】Bearings
| | |
| --- | --- |
| object to be inspected | Metal bearings |
| Defects to be detected | Minute dents and scratches of 1 mm or less |
| problem | Visual inspection was used to see minute defects on metal surfaces, but it was time consuming. Since the defects were minute, the mental and physical burden was great, and human error was easy to occur. |
| WITH THE INTRODUCTION OF AI VISUAL INSPECTION | DEFECTS ARE DETECTED IN AS LITTLE AS 0.2 SECONDS, AND A SINGLE AI MODEL CAN INSPECT BOTH THE FRONT AND BACK SURFACES WITH DIFFERENT APPEARANCES. |
Cardboard and labels
| | |
| --- | --- |
| object to be inspected | Cardboard (with label attached) |
| Defects to be detected | Scratches, stains, label position, label contents |
| problem | The company wanted to automate the inspection of cardboard boxes prior to shipment, but conventional inspection machines could not handle the task. |
| WITH THE INTRODUCTION OF AI VISUAL INSPECTION | Multiple cameras are used to simultaneously inspect multiple sides of the cardboard and label contents to achieve high-speed automated inspection. |
Various other case studies and inspections are also available. Please contact us for more details.
7. STEPS FOR IMPLEMENTING AI VISUAL INSPECTION
ArayaThere are five steps to implementing "InspectAI" in the following manner. The introduction process is almost the same as for general AI visual inspections. ArayaWe will tell you about it so that you can imagine what it would be like if you consulted with us.
(1) Hearing
First, we will interview you about the details of the current inspection. The contents of the hearing are as follows
object to be inspected
checklist
Target values (accuracy, speed, etc.)
Estimated Budget
Introduction Period
For more specific consideration, please also share the following photos
Photograph of the object to be inspected
PHOTOGRAPHS SHOWING TYPICAL NG ITEMS
Photos of the factory site
The more of the above decision-making factors that are available, the easier it will be for the feasibility study to proceed smoothly.
(2) Initial study
Once the requirements are organized, we will conduct an "initial study" to determine the feasibility of AI visual inspection.
It is necessary for the customer to prepare several images (or workpieces) of good and defective products. We will check how the defective parts appear in the supplied images and determine whether "InspectAI" can perform the inspection.
(3) Accuracy verification
We will actually prepare a certain number of image data and verify how accurate it is with "InspectAI". Specifically, we will proceed with the following steps.
Customer prepares actual good and defective products
Taken in our lab
InspectAI learns to perform inspections and verify accuracy.
(4) Final Proposal
Based on the results of the accuracy verification, we will propose a configuration plan for software and hardware to be installed on the actual line.
One of the strengths of Arayais that we can also make proposals for areas other than AI, as described below.
Optical equipment (cameras and lighting)
Conveyors and eliminators (sorting machines)
PC/WORKSTATION TO RUN AI VISUAL INSPECTION
For hardware, we will make proposals in cooperation with partner companies that have extensive experience in equipment installation. If you want to use hardware from the current line, we will examine whether it can be used without modification.
(5) Introduction
We install the software and hardware at the customer's plant site.
We will perform any necessary setups that Arayacan perform, after having agreed on the details in advance. We will do our best to help you get the most out of InspectAI.
8. summary
This article describes the challenges that AI visual inspection can solve versus conventional visual inspection, case studies, and implementation methods.
The strength of "InspectAI" at Arayais that it can be applied to a wider range of target areas than general AI visual inspection and requires fewer images for implementation. We can also propose not only an AI system but also a total mechanism necessary for inspection, so please feel free to contact us for more information.

SEE ALSO THE FOLLOWING ARTICLES ON APPEARANCE INSPECTION AI