Launched SubnetX, a development tool to optimize AI development and operation costs - AI model size can be instantly changed even after training
July 31, 2023
Corporation Araya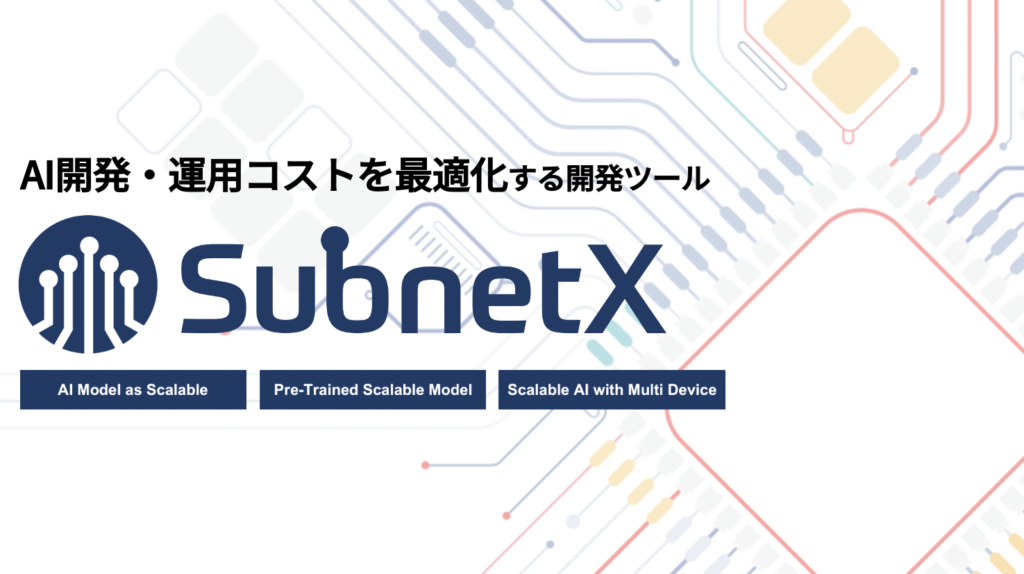 ( Araya; CEO: Ryota Kanai, hereinafter " Araya"), an artificial intelligence (AI) technology development and solution provider, will begin offering SubnetX, a development tool that reduces costs, time, and effort involved in AI development.
Service introduction URL: https://www.araya.org/service/subnetx/
■Background
Many companies are working on the development of AI to solve problems efficiently. However, in practical social implementation, companies are facing difficulties in optimizing AI models for edge devices, increased costs for redevelopment of AI due to changes in device requirements, and high operational costs for developed AI services. We have partnered with companies facing a variety of challenges, helping them develop AI models and optimize them for edge devices. Through such support, we have realized that many companies are facing the challenges of rework and difficulty in optimization in their AI development efforts.
What is SubnetX?
SubnetX is a tool that makes it easy to add scalability to existing AI models, i.e., the ability to instantly resize models even after training. Normally, model resizing cannot be done after AI training, which hinders optimization of AI development/operation costs. Scalable trained AI models can be optimized for many devices and reduce operational costs by reducing the size of existing models.
Once trained, a scalable AI model (Supernet) created with SubnetX can be reused by selecting from a large number (tens of thousands or more) of various trained AI models (Subnet) with different computational complexity, accuracy, etc., allowing for instantaneous This means that optimization can be achieved by reselecting rather than redeveloping.
Scalable model development with SubnetX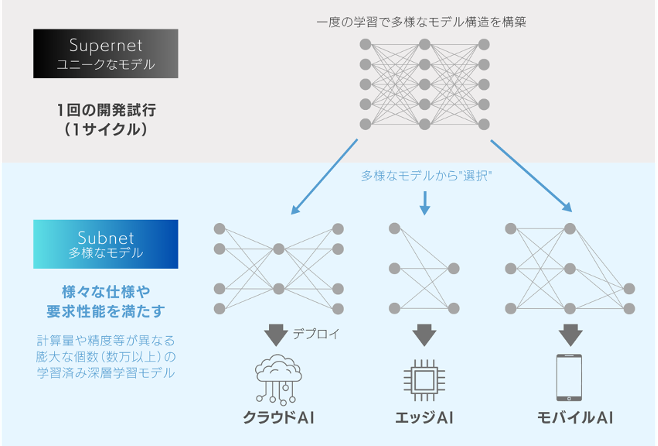 ■A CASE STUDY OF REDUCING AI DEVELOPMENT/OPERATION COSTS THROUGH SCALABLE AI DEVELOPMENT
FOR EXAMPLE, IF AN APPLICATION WITH AN AI MODEL FOR THE LATEST SMARTPHONE IS ALSO PROVIDED FOR OLDER MODELS, THE UX MAY BE AFFECTED DUE TO DIFFERENCES IN THE AMOUNT OF MEMORY INSTALLED IN THE MODELS. IN CONVENTIONAL DEVELOPMENT, IMPROVING THE AI MODEL TO ACCOUNT FOR DIFFERENCES IN THE AMOUNT OF MEMORY WOULD REQUIRE REDEVELOPMENT WITH CHANGES TO THE AI MODEL, RESULTING IN ONGOING DEVELOPMENT AND OPERATIONAL COSTS.
TRADITIONAL DEVELOPMENT IMAGE IN AI MODEL DEVELOPMENT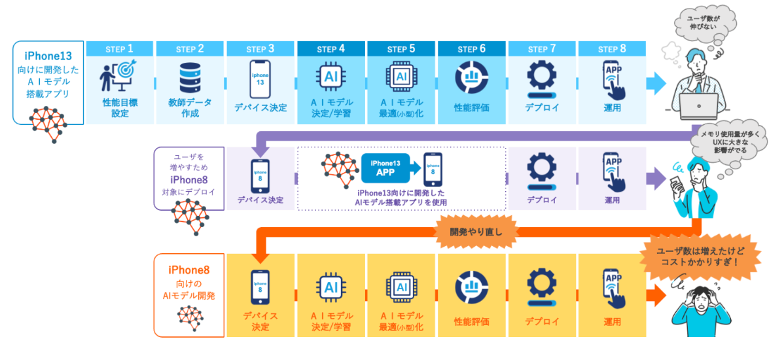 Scalable model development with SubnetX minimizes rework and reduces development costs by allowing optimization by simply re-selecting from a variety of pre-trained AI models, even if requirements change during development or after the start of operations.
Image of scalable model development in SubnetX

■Cost Reduction Results
AS AN EXAMPLE OF OUR EDGE AI DEVELOPMENT, WE OPTIMIZED AI MODELS FOR THREE DEVICES. WE WERE ABLE TO REDUCE THE DEVELOPMENT TIME BY 38% IN TERMS OF MAN-HOURS FOR DEVICE OPTIMIZATION AND MODEL OPTIMIZATION REWORK.
Cost savings expected from SubnetX utilization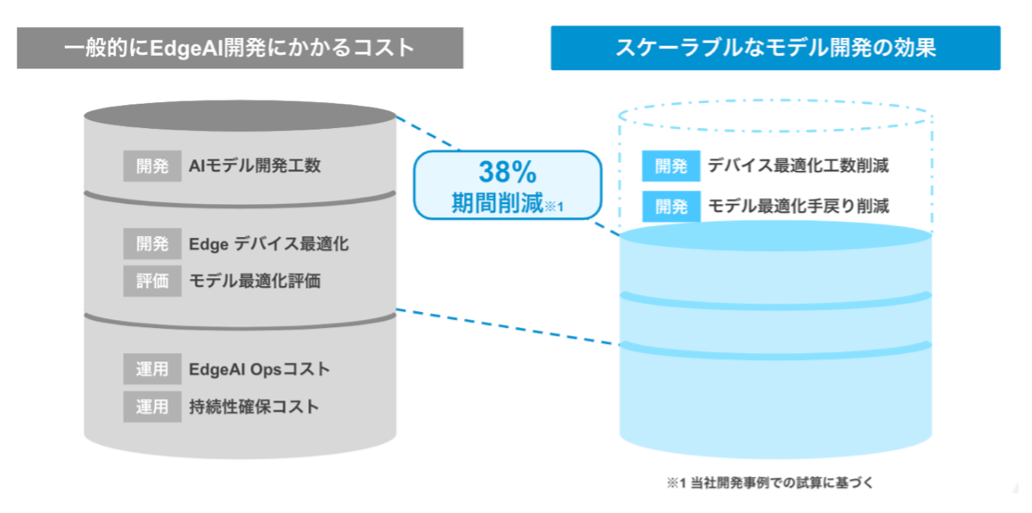 Other Application Cases] Application of Once-for-ALL (OFA) in Edge AI Development for Automobile Manufacturers
https://www.araya.org/projects/subnetx/
Scheduled to begin offering
■About Detailed Explanatory Materials
■EDGE AI DEVELOPMENT EXPERIENCE AT ARAYA, INC.
PARTICIPATED IN A NEDO R&D PROJECT ON INNOVATIVE AI EDGE COMPUTING WITH KDDI CORPORATION IN 2018
EDGE AI IMPLEMENTATION ON DRONES
Faster/lightweight object detection, segmentation, image classification, anomaly detection models, etc.
Many other achievements (more than 20), such as speed/weight reduction by miniaturization technology (quantization/branch pruning/distillation)
Company Profile
Company name: Kabushiki Kaisha, Ltd. Araya
Representative: CEORyota Kanai
Established: December 2013
Location: 6F Sanpo Sakuma Building, 1-11 Kandasakumacho, Chiyoda-ku, Tokyo
URL: https://www.araya.org/
Business: Deep Learning, Edge AI, Autonomous AI, Neurotech, Contract Research
For inquiries regarding this press release, please contact
Ltd. ArayaPublic Relations: Oishi
Home Page :https://www.araya.org/
e-mail: sales@araya.org