UTILIZATION OF IMAGE RECOGNITION AI FOR IN-STORE MARKETING AND CUSTOMER BEHAVIOR ANALYSIS IN COMMERCIAL FACILITIES AND STORES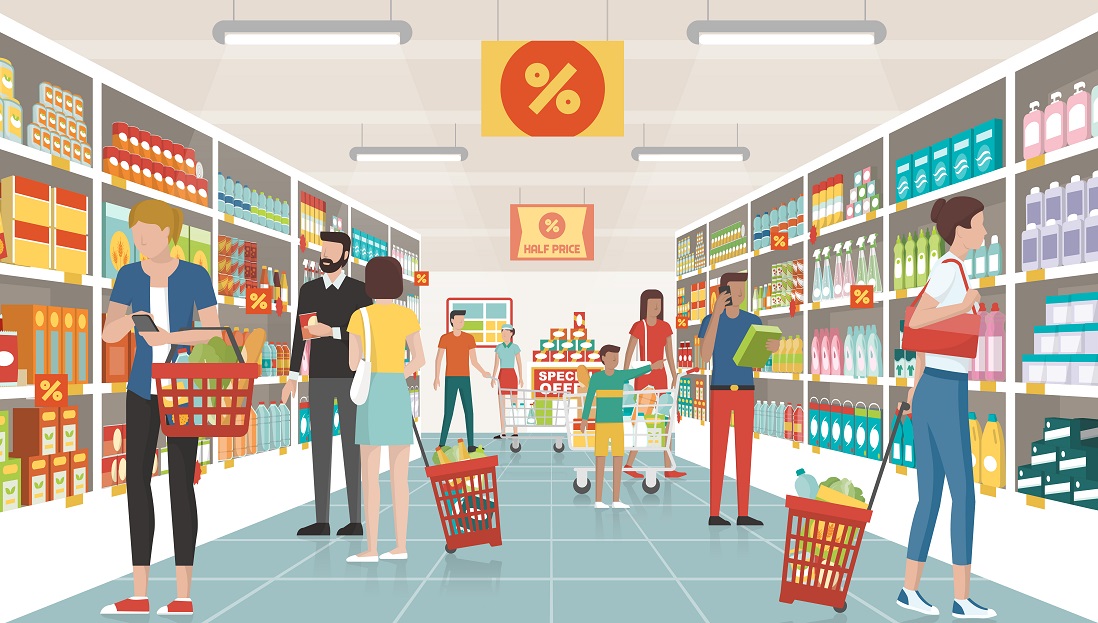 1. what is in-store marketing?
In-store marketing (store marketing) is a sales strategy that takes place in stores and is designed to encourage consumers to buy. It is a strategy used by large facilities such as shopping malls and department stores, as well as individual shops, restaurants and other physical stores within the facilities, to increase sales on the sales floor.
While the trend toward online shopping has increased in recent years, a survey on consumer psychology shows that more than half of consumers still prefer to shop in stores. Another recent trend is the increase in the number of customers who utilize both online and offline shopping, such as researching products in an online store before visiting a physical store to make a purchase. In-store marketing is an essential approach to store management that analyzes the behavior of customers who visit physical stores, increases their motivation to buy, and builds a system that leads to sales.
Specific in-store marketing initiatives include the following
POP: Abbreviation for point of purchase, a poster or advertisement displayed at the entrance of a store, on a wall inside a store, or on a product shelf.
Digital signage: A large monitor placed in the corridor of a commercial facility or at the entrance of a store, on which video and images are switched and displayed to attract the attention of passersby.
Store layout: Designing the arrangement of product shelves in a store to make it easier for customers to find products and move around the store.
Reducing waiting time: Aiming to improve service and customer satisfaction by reducing the time spent waiting to check out or enter a restaurant.
IN ORDER TO INCREASE THE EFFECTIVENESS OF THIS TYPE OF IN-STORE MARKETING, IT IS FIRST AND FOREMOST IMPORTANT TO UNDERSTAND AND ANALYZE THE BEHAVIOR OF CUSTOMERS WHO VISIT YOUR STORE. FOR EXAMPLE, ANALYZE HOW CUSTOMERS REACT TO POP AND DIGITAL SIGNAGE, WHICH AREAS OF THE STORE THEY PASS THROUGH, AND WHETHER OR NOT THOSE ACTIONS LEAD TO A PURCHASE.
2. data to be acquired for analysis of customer flow and behavior
In-store marketing, understanding and analyzing customer flow lines and behavior is the first step in improving sales strategies. By analyzing the flow lines, it becomes possible to understand the effects of each in-store marketing measure (such as product contact rates and purchase rates), which could not be determined by analyzing POS data alone.
Below is an example of data analysis for in-store marketing.
Customer behavior analysis: time spent, traffic flow (walking distance), product contact rate, purchase rate, etc. by customer attribute (gender, age)
Analysis of passers-by in front of the store: counting the number of passers-by in front of the store, analyzing the behavior of people who come to the entrance of the store but do not enter
ANALYSIS OF ADVERTISING EFFECTIVENESS: WHETHER POP AND DIGITAL SIGNAGE ARE GAZED AT OR NOT, AND SUBSEQUENT BEHAVIOR
Store layout analysis: Before/after comparison of layout changes, comparison of multiple stores, etc.
Wait time analysis: waiting time at the cash register, waiting time to enter the store, time required for checkout, etc.
BY ANALYZING THIS INFORMATION, IT IS POSSIBLE TO IMPROVE POP, STORE LAYOUT, ETC., AND FURTHERMORE, IT IS POSSIBLE TO CONDUCT COMPARATIVE VERIFICATION BETWEEN BEFORE AND AFTER IMPROVEMENTS. THIS MAKES IT POSSIBLE TO OPERATE STORES MORE RELIABLY BASED ON DATA, WHEREAS IN THE PAST, DECISIONS WERE MADE BASED ON THE STORE OPERATOR'S SENSES.
Araya'S AI TECHNOLOGY FOR ANALYZING CUSTOMER BEHAVIOR AND TRAFFIC FLOW
By utilizing customer behavior analysis AI (human flow analysis AI), which brings together Araya's image recognition AI technologies, analysis of customer behavior and flow lines will be realized. Specifically, surveillance cameras installed in stores and newly installed fixed cameras can be used to track the movements of people.
In particular, Araya's customer behavior analysis AI has the advantage of being able to analyze behavior by linking multiple cameras. Conventional technology has the problem of not being able to link and integrate information from multiple cameras. With ARAYA's technology, by linking information from multiple cameras, it is possible to respond to situations where there are many blind spots due to large stores or product shelves.
Demo Video
The following video shows how the AI tracks human movement.
It detects and tracks people in the store from surveillance camera images. It also maps the positions of people on a floor map.
In addition to these technologies for tracking people, we can combine AI technologies for estimating gender and age from images of people, AI technologies for detecting people's gazes, and AI technologies for detecting people's movements to enable more detailed analysis of customer flow lines and behavior.
4. A CASE STUDY OF IN-STORE MARKETING USING ARAYA'S CUSTOMER BEHAVIOR ANALYSIS AI
WE WILL INTRODUCE A CASE STUDY OF THE USE OF ARAYA'S CUSTOMER BEHAVIOR ANALYSIS AI FOR MARKETING ANALYSIS IN STORES.
COMPARISON OF STORE ENTRY AND PURCHASE RATES BY POP AND DIGITAL SIGNAGE CONTENT
IT IS POSSIBLE TO ANALYZE WHETHER OR NOT PEOPLE PASSING IN FRONT OF THE STORE HAVE GAZED AT THE POP AND THEIR SUBSEQUENT BEHAVIOR. THIS MAKES IT POSSIBLE TO MEASURE THE EFFECT OF CHANGING THE POP DESIGN OR THE DISCOUNT CAMPAIGN POSTED ON THE POP, AND TO CONDUCT AB TESTS.
Specifically, the following can be achieved
POST TWO POPS WITH DIFFERENT DESIGNS AT THE ENTRANCE OF THE STORE, COMPARE WHETHER THE CUSTOMER ENTERED THE STORE AFTER SEEING THE POP OR NOT (ENTRY RATE), AND UNDERSTAND THE ADVERTISING DESIGN THAT THE CUSTOMER PREFERS.
POST POPS WITH DIFFERENT CAMPAIGN CONTENT AND COMPARE WHETHER PEOPLE MADE A PURCHASE AFTER SEEING THE POPS (PURCHASE RATE) TO UNDERSTAND MORE EFFECTIVE CAMPAIGNS.
Comparison and verification of store layouts
You can also aim to increase sales by devising the layout of product shelves in your store. For example, by analyzing and comparing customer behavior and traffic flow in stores with different layouts in a chain store, it is possible to verify which layout has a better entry rate, product contact rate, purchase rate, and time spent in the store.
For example, it is possible to make the following comparison
Comparison of placing women's clothing in the front and men's clothing in the front in an apparel store
Comparison between placing vegetables near the entrance and placing prepared foods in a supermarket
In a convenience store, if you change the placement of a product on the shelf
Obtaining additional orders through tablet terminals installed at each table in restaurants
When a tablet terminal is installed at each table in a restaurant for ordering, the camera on the tablet detects customer demographics (number of people, gender, age, etc.) and behavior (e.g., how much food and drinks are being consumed), and makes suggestions according to the situation, thereby increasing the amount of money spent per customer.
Specifically, the following can be achieved
Detects when a meal is running low and suggests a dessert at the right time; detects when a drink is running low and suggests an additional drink
Propose a dessert menu based on gender and age.
Notify staff if no dessert is ordered to encourage checkout and increase turnover.
REDUCTION OF WAITING TIME, OPTIMIZATION OF NUMBER OF CASHIER PERSONNEL AND NUMBER OF ATMS
Shortening the waiting time at the cash register in stores leads to improved service and prevention of sales loss, but in order to achieve this, it is necessary to allocate (shift) cashier personnel according to the number of customers visiting the store. This is also true at banks and government offices. It is also necessary to install the necessary number of self-checkout machines at supermarkets and ATMs at banks. In order to plan the shifts of these personnel and the number of machines, it is necessary to visualize the congestion in the store, the waiting time and the number of customers, and to understand the peak hours.
Also, by adjusting shifts, such as reducing the number of store employees during unoccupied hours, it is possible to reduce unnecessary labor costs.
5. EXAMPLES OF AI USE IN CUSTOMER SAFETY MANAGEMENT
We have mainly introduced the use of AI for measures aimed at increasing sales at stores, but it is also possible to use the same customer behavior analysis AI to take safety measures for customers visiting stores at the same time. Providing facilities and services that are "comfortable" for customers will also lead to enhanced loyalty.
SPECIFICALLY, ARAYA'S CUSTOMER BEHAVIOR ANALYSIS AI CAN HELP YOU MANAGE SAFETY BY
Searching for lost children
Tracking a suspicious person
Detects people who need support such as wheelchairs and white canes
Detection of falls, huddling, etc.
Detection of densely populated areas to prevent corona transmission
IN COMMERCIAL FACILITIES, FOR EXAMPLE, IT IS DIFFICULT TO KEEP AN EYE ON A LARGE AREA OF SURVEILLANCE CAMERAS AT ALL TIMES, BUT AI CAN MAKE THE NECESSARY DETECTIONS AND COLLABORATE WITH ATTENDANTS TO ENABLE SAFETY MANAGEMENT WITH A LOWER LOAD.
6. summary
THIS ARTICLE DISCUSSES THE USE OF CUSTOMER BEHAVIOR ANALYSIS AI AND IMAGE RECOGNITION AI FOR IN-STORE MARKETING AND CUSTOMER BEHAVIOR ANALYSIS IN COMMERCIAL FACILITIES AND STORES. AT ARAYA, WE SUPPORT THE INTRODUCTION OF AI TECHNOLOGY INTO STORE OPERATIONS. PLEASE FEEL FREE TO CONTACT US.
SEE ALSO THE FOLLOWING ARTICLES ON HUMAN FLOW ANALYSIS AI (TRAFFIC FLOW ANALYSIS AI)