Report on "ARAYA Internal Workshop," an in-house research presentation by researchers/engineers
On August 4, 2022, we held the In-House Research & Development Exchange Part 2. This time, in light of the recent coronavirus infection spread, the event was held in a hybrid format with a maximum of 28 participants onsite and unlimited participants online.
The first half of the event featured introductions by each team and the second half featured presentations by 10 presenters detailing their research and development. In addition, five products under development were demonstrated at separate venues.

Even the hybrid, it was well prepared to facilitate a Q&A session. We have devised an online/asynchronous discussion through a Slack channel as well as a real-time Q&A session.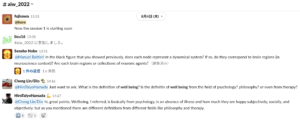 Demonstration of a product under development. Everyone is very interested in the product, regardless of department or role.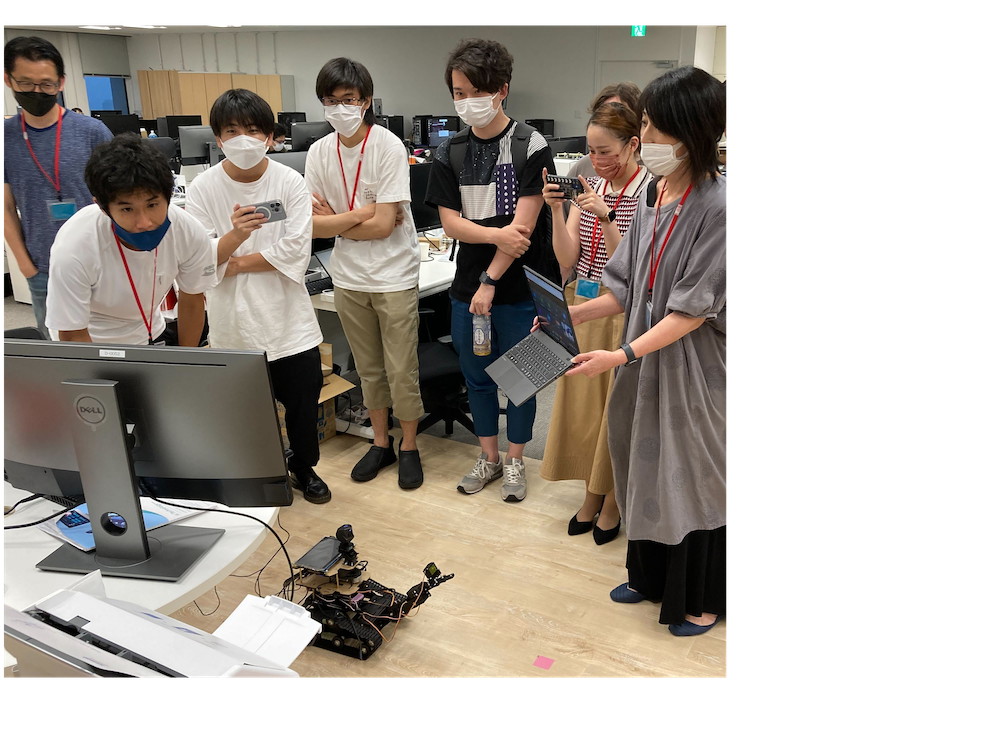 We believe that by experiencing the actual content of research and development and products, participants were able to feel closer to the world that their colleagues are looking at. We will continue to provide regular opportunities to learn about what our colleagues are researching and developing, to generate new discoveries and curiosity, and to create opportunities to make the future interesting.
Outline of "Araya Internal Workshop 2022
Date: August 4, 2022, 10:00-17:00
Format: onsite/online
Participants: Arayaemployees/Authorized personnel
■Presentations
#
NAME
TITLE.
0
Team Leaders
Introduction of each team
Session1
1
Manuel Baltieri
A foundational theory of agency
2
Hiro Hamada
AI agents for facilitating social interactions and wellbeing
3
Roberto Gallotta
Evolving Spaceships with a Hybrid L-system Constrained Optimisation Evolutionary Algorithm
4
Trung Quang Pham
Shared hierarchical cross-modal processing between visual and haptic recognition: an fMRI study
Session2
5
Yasuo Kabe
A neural workspace for representation sharing
6
Tom Burns
The Perceiver Architecture as a Global Workspace from the Perspective of Modern Hopfield Networks
Session3
7
Ryota Takatsuki
Analysis of qualia space through metamodel implementation
8
Ippei Fujisawa
Logic task for extrapolation and rule understanding
9
Shogo Akiyama
Development of Optical Neurofunctional Data Analysis Tool
11
Hiroaki Fukumoto
Initiatives to improve code quality without sweat
12
Dan Ogawa Lillrank
Brain Machine Interface: Controlling a robot arm with the mind
■Demonstration (partial)
| NAME | Title of Demonstration |
| --- | --- |
| Hirofumi Fujita | Demonstration of hair detection model |
| Yukihito Yomogida | Face2Brain |
| Keita Matsumoto | Demonstration of autonomous robot |
| Sensho Nobe | Playing a driving game with EEG |
| Tatsuya Mori | This Demo only for internal |
| Ryosuke Hiyama | Development of wearable electroencephalograph |