USE OF IMAGE RECOGNITION AI TO PREVENT CONTACT BETWEEN FORKLIFTS AND OTHER VEHICLES AND PEOPLE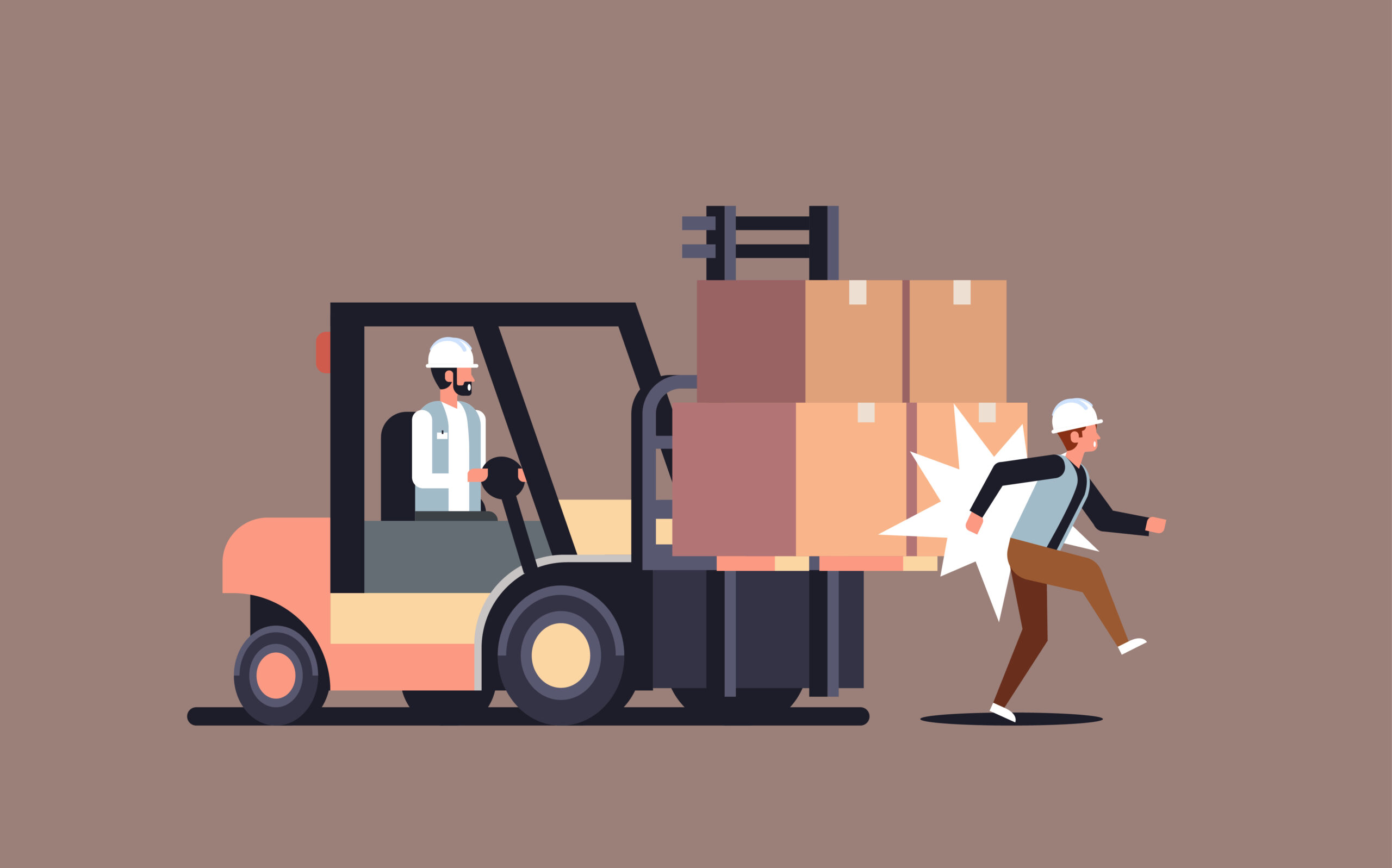 1. accidental contact between a vehicle and a person at a work site
Factories in the manufacturing industry and warehouses in the logistics and transport industries are often equipped with forklifts, trucks, AGVs (Automated Guided Vehicles), AMRs (Autonomous Manually Operated Robots) and other vehicles for transporting and handling goods. Construction sites in the construction industry also use cranes and other heavy equipment, as well as dump trucks and other vehicles. On each of these sites, vehicles and people travel in the same area, which can lead to a high risk of contact, often resulting in serious accidents.

For example, the following cases of accidents involving forklifts occur frequently (according to an accident survey by the Ministry of Health, Labour and Welfare).
The driver fails to notice a worker hidden by the load and crashes into him.
Crashes involving workers when changing direction
A vehicle jumps out of a blind spot in a corridor and hits a passing worker.
A worker is caught between a swerving vehicle and a wall.
In particular, more than 60% of all workplace accidents caused by forklifts are caused by being caught in or caught in the middle of a vehicle or by being struck by a forklift truck, and nearly half of these accidents result in death.

These accidents cause a wide range of damage, including medical treatment for employees, compensation for absence from work, repairs to vehicles and equipment, as well as losses due to stoppages in production. In addition, corporate compliance can be called into question. Preventing contact accidents is becoming increasingly important.
2. conventional methods and challenges of preventing contact between vehicles and people
A number of measures are in place at workplaces to prevent contact between vehicles and people.
One of these is the deployment of surveillance personnel. One of these is the deployment of monitors, who are stationed inside factories and warehouses to control traffic. However, factories and construction sites are often large enough that it is not practical to have people in every part of the site at all times.
Another safety measure is the "separation of people and vehicles", which separates the operating areas of vehicles and people. However, it is not possible to prevent contact completely, as people may need to cross aisles for vehicles, or transport vehicles may intrude into people's working areas.
Increasingly, sensor-based detection systems are being introduced. These are systems where a sensor (detector) is fitted to a vehicle and when a worker with a tag approaches, the sensor detects and alerts the operator with an alarm. The sensors are expensive and improve the effectiveness of contact prevention, but the cost of installing the equipment, including sensors on all vehicles and tags for people, is an issue.
3. AI MEASURES TO PREVENT CONTACT BETWEEN VEHICLES AND PEOPLE
ARAYA'S IMAGE RECOGNITION AI TECHNOLOGY CAN BE USED TO PREVENT CONTACT BETWEEN VEHICLES AND PEOPLE. THE AI RECOGNIZES THE PERSON FROM THE IMAGE TAKEN BY THE CAMERA AND WARNS WITH AN ALARM WHEN THE PERSON APPROACHES WITHIN A CERTAIN DISTANCE FROM THE VEHICLE. THERE ARE TWO METHODS OF DETECTION DUE TO DIFFERENCES IN THE WAY THE CAMERA IS INSTALLED.
Contact prevention by fixed-point camera
Fixed-point cameras are installed at key locations in the target premises to provide a bird's-eye view of people and vehicles coming and going. The cameras used can be existing surveillance cameras or new, standard fixed cameras. An alarm can be triggered by detecting the approach of a vehicle and a person in the image below a certain distance.
Demonstration video: AI recognises cars, pedestrians, bikes and cyclists near an intersection.
The AI recognizes cars, pedestrians, motorbikes and bicycles and displays a rectangular frame. When a pedestrian, motorbike or cyclist enters the intersection area, the frame turns yellow. When a pedestrian, motorcyclist or cyclist enters the intersection area, the frame turns yellow, and when a vehicle approaches, the frame turns red.
When this technology is applied to factories, warehouses, construction sites, etc., the AI tracks the position of vehicles and people passing by and, when it detects their approach, it raises an alarm to prevent a collision. Alarms can be triggered by turning on patrol lights on the vehicle, or by automatically stopping the vehicle. In addition, if the site is large, it is possible to monitor several points simultaneously.
Demonstration video: Collision prediction based on human and vehicle movements
The following video shows a demonstration of collision prediction between a human and a robot simulating an AGV/AMR.
The squares on the human and the robot show how the AI detects each of them.
The position, direction and speed of each robot are shown as vectors on the map at the bottom right.
If the AI detects that the robot is about to come into contact with a person, the frame of the person will turn red in the demo video. In factories and warehouses, the AI can foresee contact between the AGV/AMR and a person and warn with an alarm or reduce the speed of the robot. Dangerous behaviour, such as sudden acceleration or sharp turns of forklifts, can also be monitored. In this way, it is possible to avoid dangerous vehicle accidents.
Contact prevention with on-board camera
Cameras can also be mounted on forklifts, construction equipment, trucks and other vehicles to detect people. An alarm is triggered when a person approaches below a certain distance. Ideally, cameras should be installed in several places on the vehicle, especially on forklifts, which often move backwards and forwards as well as in turns and change direction frequently.
In-vehicle camera contact prevention systems are particularly suitable for environments where it is difficult to install cameras at fixed points, or for sites with a large travel area. The advantage is that there is no need to attach the sensors to the operator.
By applying AI that recognizes people and objects to the cameras mounted on vehicles (construction equipment, work trucks, forklifts, AGVs, AMRs, etc.) running in factories, warehouses and construction sites, it is possible to issue an alarm or stop the vehicle when it foresees the danger of contact. In addition, ARAYA's edge AI technology enables AI to be lightened and run at high speed on a small device chip that can be installed in a vehicle, for example.
4. summary
THIS ARTICLE EXPLAINS HOW AI CAN BE USED TO PREVENT CONTACT ACCIDENTS AND ENHANCE SAFETY MANAGEMENT IN PLACES WHERE VEHICLES AND PEOPLE COME AND GO, SUCH AS FACTORIES, WAREHOUSES AND CONSTRUCTION SITES. AT ARAYA, WE SUPPORT THE INTRODUCTION OF AI TECHNOLOGY, INCLUDING IMAGE RECOGNITION, TO SITES WHERE SAFETY MANAGEMENT IS REQUIRED. PLEASE FEEL FREE TO CONTACT US FOR MORE INFORMATION.
See also the following articles on people tracking