AI Solutions for Agriculture,Fishery and Livestock Industries

Introduction
By combining existing technologies with individual development tailored to each customer's needs, ARAYA can provide "truly usable AI" for business use and solve customers' business issues.
Here are some examples of solutions for the agriculture, fishery, and livestock industries.
Challenges in Agriculture, Fisheries and Livestock Industry 1: Condition management, sorting and counting of crops, etc.

In agriculture, for example, it is necessary to monitor the growth of crops under cultivation and livestock and fish under fattening, as well as to check for damage caused by insects and bad weather. In recent years, there has been a growing need for more frequent monitoring of crop growth and optimization of fertilizer application in order to produce higher quality crops than previously possible. On the other hand, it is difficult for the human eye to constantly check the growth status.
To address these issues, ARAYA's image recognition AI technology can be used to automate tasks such as crop condition management and sorting for harvest. It can also be used to classify harvested crops.
Related Video
The following video shows how AI is used to count the number of tuna moving in one direction from one fish tank to another at a tuna farm. By understanding the number of individuals, we are able to optimize the amount of food in the fish farm.
Agriculture, fisheries, and livestock industry issue 2: Detection of intruders, etc.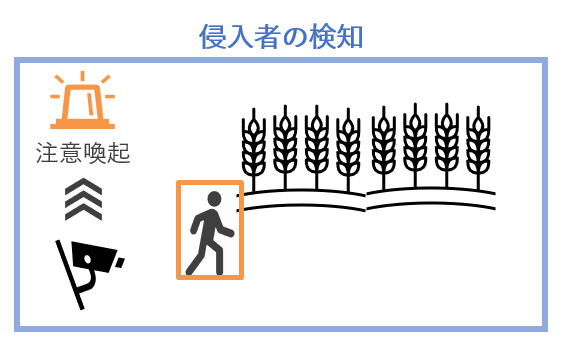 Theft of crops and livestock is frequently reported, but because farmland and livestock barns are so vast, it is difficult to constantly monitor them for intruders and suspicious persons with human eyes.
To address these issues, ARAYA's image recognition AI technology will help improve operational efficiency.
For example, it is possible to detect intruders and animal intrusion from surveillance cameras.
Related Demo Video
The following video shows the AI recognizing cars, pedestrians, motorcycles, and bicycles near an intersection. Pedestrians, motorcycles, and bicycles are shaded yellow when they enter the intersection area, and red when they approach a vehicle.
By applying this technology to surveillance cameras in facilities, it is possible to detect suspicious persons and issue an alarm.
SUMMARY: FOR THOSE CONSIDERING THE INTRODUCTION OF AI IN THE AGRICULTURE, FISHERY, AND LIVESTOCK INDUSTRIES
WHETHER YOU HAVE EXPERIENCE IN AI DEVELOPMENT OR ARE NEW TO AI DEVELOPMENT, WE WILL PROVIDE YOU WITH DETAILED PROPOSALS AND EXPLANATIONS.